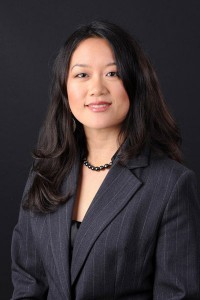 With less than 5 % of women CEOs of Fortune 1000 companies and less than 20% of women in U.S. Congress, I, like many others, see the inequity in the diverse art of leadership here in the U.S. and internationally. Increasing the number of diverse leaders broadens our worldly horizons and potentially changes the trajectory of over 50,000 years of human history. I started Imagine Leadership LLC to celebrate the 'everyday leaders', to create more visible role models in the world, and to make sure that skills, tools, and resources are available to anyone who dreams of stepping up into their own authentic leadership for oneself, your families, and your communities. Be the leader that you seek… Love a better a world.
Judi Rhee Alloway
Leadership Coach and Business Consultant
@JudiRheeAlloway , CPC: Award-winning Business Consultant and Leadership Coach, Founder of "Best Business Center" @WomensBizCoop,  Imagine Leadership, LLC @ImagineLeaders; and Founding National Director Emeritus of Women in NAAAP! @WomeninNAAAP, an international Asian women's leadership program covered in Forbes Women. With 15+ years of experience as a "Top Woman Innovator", Judi has started and managed successful businesses, departments, and non-profits managing over 10,000 people and $6 million dollars in revenue. Her public media appearances include Philadelphia Inquirer, Philly Daily News, El Día, Epoch Times, Korean Quarterly, ABC, CBS, Fox, WHYY, and Nickelodeon. Her transformative life story is featured in two books: The Coaches Journey and The Height of Power by Huffington Post columnist, Suzette Martinez Stranding. Judi began her work in empowering communities when she started Huesoul Foundation in Mongolia to build communities through sustainable agriculture. Coming back to America, she had a successful career in asset management at Morgan Stanley until struck with debilitating chronic pain which completely changed her life "from a wheelchair to health is wealth." With a new lease on life, Judi trained as Certified Professional Coach at the Institute for Professional Excellence in Coaching, where she discovered her passion to encourage "everyday leaders" and created the "Shift Now!" movement across the country.
In 2010, Ms. Alloway organized the Philadelphia Asian American community through a new website, events, and speaker as the consultant for the Mayor's Commission on Asian American Affairs (MCAAA). She was the founding Professional Development Chair of the Philadelphia Chapter of National Association of Asian American Professionals (NAAAP) and the founding National Director of Women in NAAAP!, an international Asian women's leadership program in 10 metropolitan cities across North America covered by Forbes Women.  Chosen by the Women's Bureau of the US Department of Labor in 2011, Ms. Alloway was honored to be placed in the pool of top women innovators to represent the United States by the US State Department. She has volunteered on the Steering Committee of Count Me In, coaching 1000 women small business owners to become millionaires, and the Founding Boards of Asian Americans in Energy, Environment, and Commerce (AE2C), and Korean Americans for Obama – Philadelphia. Judi speaks at international events at the Korean Embassy and for Korean Women International Network (KOWIN) supported by the Korean Ministry of Gender Equality and Family (MOGEF) and International Korean Adoptees Services (INKAS). Ms. Alloway organized national events through the Korean Inauguration Committee and Korean Coalition in Civic Participation at the U.S. White House. Ms. Alloway served as the Director of U.S. Small Business Administration-funded Women's Business Center at the Empowerment Group where she played an integral role in re-branding the organization.
In 2014, she was nominated by the U.S. Small Business Administration to advise the Secretary of Commerce on the National Advisory Council on Innovation and Entrepreneurship. In 2015, she was "Community Ambassador" for Impact Hub, an international co-working network in 79 countries. In 2016, she was featured as an "Industry Innovator" on American Airlines, on the cover of America's Enterprise, and a writer at Forbes.com. She was also appointed to the Philadelphia Mayor's Commission of Asian American Affairs by Mayor Kenney. In 2017, the Women's Business Coop was selected for the "2017 Best of Philadelphia Award" in the Business Center category. Ms. Alloway was awarded the "2017 Minority Business Leader Award" by the Philadelphia Business Journal.
In 2018 she was appointed again by Mayor James Kenney on the Rebuild Oversight Committee, a $500 million project encouraging diverse women business owners to participate on local contracts to rebuild Philadelphia schools, libraries, and parks. In honor of our contributions both locally and nationally, the Mayor of Philadelphia has proclaimed @WomensBizCoop Day on March 5th, 2019. Studying at the George Washington University, at Moscow State University and at Seoul National University, Judi speaks around the world as a social entrepreneur, a community leader, and a multicultural women's leadership expert as one of the top 25 "Asian American Influencers" on Twitter and "Outstanding Woman Visionary Leader."